Delivering live broadcast-quality video to UK News Channels over IP
Recent broadcasts during the Scottish Referendum from the Shetland Islands are excellent example of how IP can be used to deliver broadcast-quality live or recorded material.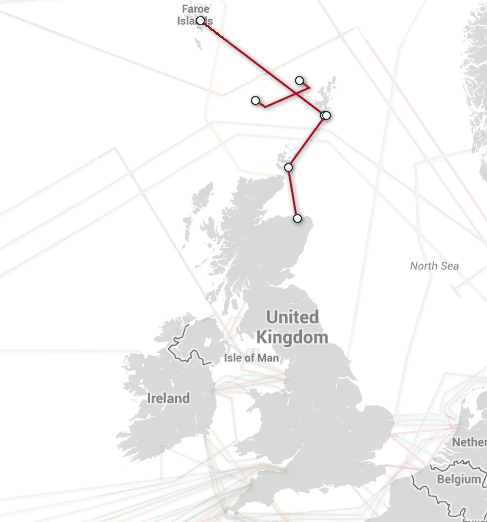 Broadcasters are increasingly reluctant to send a satellite vehicle and crew to Shetland because of its distance from the mainland. It also lacks services such as 4G which are also being used to deliver footage back to base. However, Shetland has one trick up its sleeve – it sits on the SHEFA-2 fibre optic cable between the Faeroe Islands and the mainland and thus has direct connectivity to Telehouse London, where all the major broadcasters have a presence. This makes the connection better than those in major cities on the mainland since it's only a few hops to broadcasters.
The Broadcasts
The visit of Mark Kermode and Gavin Esler for the Shetland Film Festival proved to be a good chance to try this all out. At Mareel in Lerwick a 100mbit/s connection was available and having built OBE Community Edition themselves to prove the concept, the engineers there used an OBE C-100 device to encode their 1080i/25 HD-SDI feed into a low-latency H.264 in MPEG-TS over UDP unicast stream.
SMPTE-2022-1 Forward Error Correction was used to correct packet loss on the link [1]. After running tests to BBC News and Sky News [2] to prove the link was stable and the picture quality met stringent quality standards, the feed was ready to use.
A number of live inserts about the Scottish Referendum with Gavin Esler were delivered to the BBC News Channel and the entire Film Review programme on 05/09/14 was transmitted as-live from Mareel without any packet loss.
With low-cost devices like the OBE C-100 hardware or software, there are many opportunities for places with good connectivity such as businesses, universities, government buildings etc. to deliver broadcast quality video for events such as press-conferences or other outside broadcasts using their existing internet connection, avoiding the need for dedicated broadcast fibre, reducing costs for both the sender and the receiving broadcaster.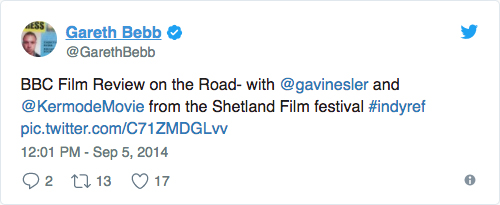 Andy Steven, Head of Brand Strategy, at Promote Shetland, who organised the broadcasts in partnership with Shetland Arts said:
Unfortunately there is a perception that a place as far flung as Shetland would probably struggle with Skype so attracting broadcasters can often remain on the "too difficult" pile. We set out to make things easier for broadcasters and to demonstrate that we could deliver an IP contribution feed in HD from the UK's most northerly community.  In achieving this goal we hope that others will consider working with us in bringing our unique culture and heritage to a wider audience and for other rural communities to consider doing something similar. Working with the BBC and Sky was an incredibly positive experience for us all but especially for our younger participants who have been inspired to consider media as a career.
The Future
There are some challenges with scaling this up though. The main problem is that the link needs to be tested individually with broadcasters, a time consuming process. In the future Open Broadcast Systems will be setting up facilities in its offices for testing devices remotely. Network troubles are another problem – Automatic tunnelling, which programs like Skype use to avoid manual changes to the network like port forwarding, is a way to avoid this but there could still be network issues somewhere along the line – we've all seen how Skype struggles to produce something viewable on flaky network connections. In reality to deliver broadcast-quality, low-latency feeds, manual changes to the network may be needed after running tests.
Have questions, comments? Email us at [email protected] for more information
[1] Whilst much better FEC, and other packet recovery schemes do exist, SMPTE-2022-1 has the advantage that it works with existing receivers (mostly).
[2] https://twitter.com/skynewstech/status/491684960248803329