Firstly, a warm welcome to 2017!
We thought we'd share the weekly goings on here at Open Broadcast Systems, both in our main London office and the rest of our team distributed around Europe.
Globecast SERTE deployment
Our French Partner Ekla Ingeniere installed 2x HD C-100 Decoders at the Globecast SERTE, the main French broadcast switching centre. This decoder has the capability to be software upgraded to 4x simultaneous HD decoders..
We worked with Ekla this week to integrate this unit into SERTE.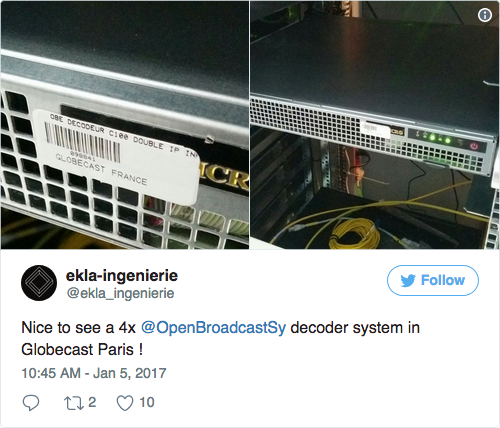 Supply Chain Improvements
We might be a software company but we've have developed a complex supply chain with parts from dozens of suppliers travelling around the world to numerous systems integrators. Things like customs delays and upstream supplier lead times has at times led to longer lead times than we hoped in 2016. Therefore, at the end of 2016, we started taking steps to reduce lead times, with some units now available within a week of order. In 2017, our goal is for all mainstream chassis to be available within a week.
Technical work
This week, some of our more technical work has included:
Continued evaluation of DVB-S2 PCIe boards in our downlink centre
Improving performance of 2022-6/7 output
Fixing decoder issues in 1.3 release
Continued development of automated tests for testing Web/SNMP layer in preparation for 1.4 release
Other Activity
We started planning for our trip to FOSDEM in Brussels at the end of the month.
We have also started planning our NAB booth and demos.
And, of course, the first week of the year means paperwork 🙁
What we've been reading/watching
Falsehoods programmers believe about
If Flexport Succeeds, Everything You Buy Will Cost Less
Anomaly Updates (SpaceX)
Want to get in touch? Email us at [email protected] or use the chatbox below.