One of the unique capabilities of our encoding and decoding platforms is the ability to spin-up and spin-down licences at will. This blog post will explain why this is an important capability in a flexible broadcast operation.
With today's fast-paced news gathering operations and extensive international sports coverage, teams need to respond at a moment's notice and broadcast workflows must be more flexible than ever.
Within these sectors of broadcasting, content is defined by fluctuating schedules, special events and exceptional circumstances. Adaptable infrastructure is needed, to allow for rapid expansion of capacity. For example, in the UK, there have been numerous elections and referendums in the last decade, requiring huge investment in infrastructure such as contribution encoders to support the extensive coverage. "Bursty" events such as the Olympics and World Cups in various sports require global multi-site networks to deliver feeds, often from several locations concurrently.
However, when it comes to many sporting leagues and championships, it is commonplace in many scenarios that only certain source and destination sites, often large distances apart, will be active at any given time. As a result of provisioning for peak usage, many devices, each hosting costly licences, will sit idle for long periods of time between fixtures or seasons. At the end of the project or period, the stacks of encoders and decoders, which all had to be running at full capacity during the season, might not be needed again for another year or more. By which time, the hardware may well be out of warranty, or even at the end of its life.
But what if licenses for an encoder or decoder were tied to the software running on the device? This enables users to maximise cost-efficiencies and simply "spin-up" and "spin-down" channels as and when required, provided of course that the hardware itself can support those channels.
Licences for our encoders and decoders can be transferred between devices, in seconds, using the integrated web interface. For example for sports on a weekend, the same licence for several encoder/decoder channels can be activated in one site or territory on Saturday morning, then deactivated and moved to another site for Sunday matches. This opens up huge potential for cost saving. Not only on the licences themselves, but also on the provisioned hardware, as using commodity IT hardware means it can be repurposed during off-peak times for other IT purposes.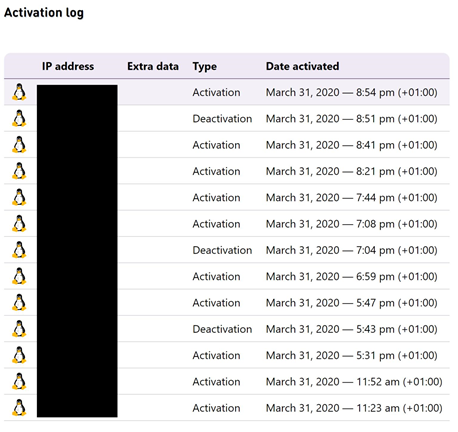 In the case of an Uncompressed IP (2022-6 or 2110) installation, preparation for a one-off or short-term period of increased capacity can be ensured, with absolutely no hardware changes required.
Having this level of control over the allocation of licenses, allows users to adapt to changing circumstances quickly and manage their resources more efficiently. Many of our customers are already enjoying the ability to deploy their own encoders and decoders using our self-service model. Enabling them to activate licences as and when needed (literally in the middle of the night or on Christmas Day!) and receive an invoice at the end of the month or quarter.
It's even possible to access encoder and decoder licences on an per-hour "pay as you go" basis. The broadcasting industry is moving towards more flexible infrastructure across the board influenced by AWS services and other cloud solutions. This move towards Op-Ex instead of Cap-Ex models has a huge impact on budgets, and broadcasters are seeing the benefits of reacting to shifting content requirements.
Adaptable encoding and decoding for occasional use feeds and the ability to price accordingly for services are ideally suited to the nature of news and sports content delivery. This allows teams to remain responsive, keep in control of their resources and deliver content in the most efficient way possible.