In 2009, Trinity Fellowship Church, Texas opened a new 4,000-person auditorium with broadcast-quality video infrastructure. A few years later the church began adding remote campuses. It now has eight remote campuses, two outreach centres, and ten prison campuses.
Trinity Fellowship looked to low-latency video solutions from Open Broadcast Systems, Cerberus Tech and Stream Monkey to deliver live, broadcast-quality video between these campuses.
Background
 Trinity Fellowship has utilized video for quite some time. In the mid-nineties the senior pastor and elders came together to create the vision for MarriageToday, the church's televised marriage and family outreach. That was the first time its video content had reach beyond the building. When Trinity moved into the expanded facility, the church also began to stream services live through its website, as well as offering the ability to watch on-demand.
With the addition of remote campuses, there was an increasing need for a bidirectional feed. This would enable churchgoers in its remote locations to view the live feed from the main campus but also made it possible to supply Quality of Experience streams back to the main site. These streams allow Trinity to better troubleshoot video and production issues at campuses and assist in maintaining a consistent experience across all of its locations.
Trinity Fellowship initially implemented bidirectional feeds a number of years ago, however, the setup used lots of different equipment and required constant attention to manage. Trinity needed a simpler setup that would need minimal manpower to run.
The Solution
 Stream Monkey was tasked with providing the live streams to and from the main site. With a proven track record delivering video content anywhere across the globe and developing bespoke hardware solutions for video distribution, Cerberus Tech was brought in to determine the best setup for Trinity Fellowship.
Having worked with Stream Monkey and Trinity to specify exactly what was needed and how the workflow should work, Cerberus was able to develop bespoke units to be housed on the main site and remote churches. Cerberus tested these units extensively before shipping them to Trinity Fellowship in Texas. Cerberus continues to supply ongoing solution support.
Setup
The unit at the broadcast site consists of an OBE C-100 Encoder and Decoder from Open Broadcast Systems and a Zixi video streaming platform. Because both of these solutions are software based, Cerberus was able to house them all in the same hardware unit.
The OBE C-100 Encoder and Decoder supports high-quality, low-latency video transport. At a much lower-cost than comparable solutions, the C-100 allows flexible deployment of contribution services in pure software or on a wide variety of high-density chassis.
Zixi's video streaming platform provides low end-to-end latency, removes jitter, recovers and re-orders packets, smooths video delivery and regenerates video to its original form, all in real-time and with minimum overhead to physical bandwidth.
As the services are being recorded, the feed is fed into the unit, encoded by the OBE C-100 encoder and then passed to the Zixi platform for packaging and distribution to the remote churches via the Stream Monkey live streaming service. At the remote sites, the live stream is fed into a Zixi receiver, decoded using an OBE C-100 Decoder, and presented to the church.
 As well as the cameras setup at the broadcast location, each remote site has a fixed camera mounted in the back of the auditorium that shows the entire stage and projection screen. This is then embedded with their main audio feed, fed into an OBE C-100 Encoder and then sent back to the main site to ensure a consistent quality of experience across all sites.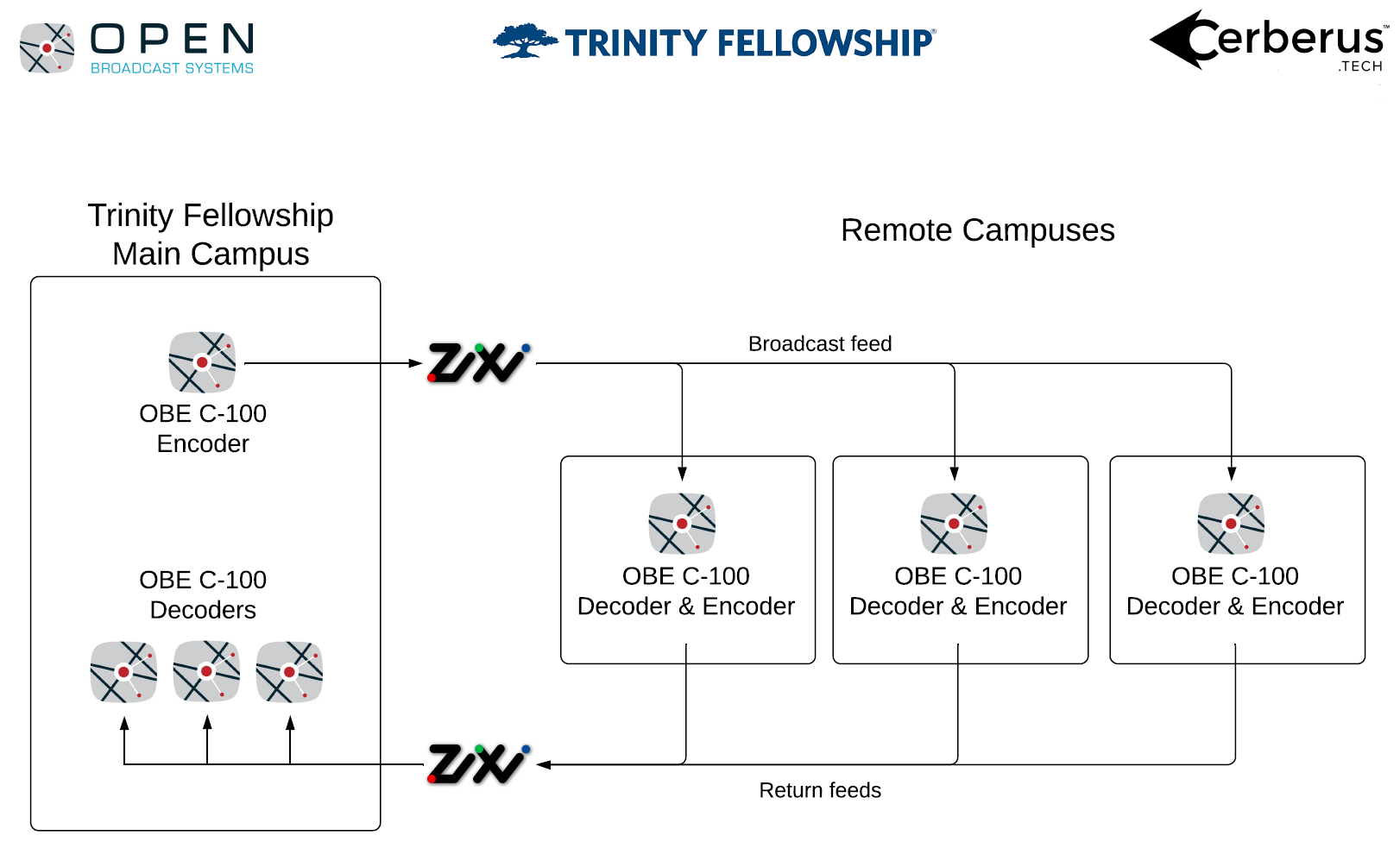 Result
For years, the Trinity Fellowship campuses were receiving a previously recorded version of its services. However, being at one of the campuses, and watching the same content at the same time as the rest of the sites helps create a stronger sense of unity and engagement.
At the same time, the bidirectional feeds mean that staff at the main site are able to quickly identify issues at the various sites and help the crews on site resolve them.
Brandon Newburg, Trinity Fellowship, commented: "The live streams have proven very popular with our congregations and have helped to enhance the sense of community amongst the entire congregation. The fact that the live streams simply work is extremely important to us, meaning we don't need an entire team on hand to manage them during broadcast."
Chris Clarke, CEO, Cerberus, added: "Having worked with both Open Broadcast Systems and Zixi for a number of years, we were confident that those solutions would deliver the right workflow needed for this implementation at a reasonable price point. We were also confident that once setup and thoroughly tested, the solutions would run smoothly and need very little input on site."
Trinity Fellowship is always striving to see what new value its video and production systems can give. It is looking into new ways to maximise the new setup, such as having pastors travel to the campuses to speak live from those locations.