Bespoke Decoder for Satellite-to-IP and 4 Simultaneous Channels
Co. Waterford, Ireland, 20thSeptember 2018
Open Broadcast Systems has delivered a bespoke decoder to handle four simultaneous satellite feeds for Nemeton TV.
Irish production company, Nemeton TV, is using the decoder to decrypt and decode satellite feeds from Gaelic Athletic Association (GAA) sporting matches held across the country. National League changes means that as many as three matches could be played simultaneously in different locations, meaning the production company required a way to handle an extra four feeds simultaneously.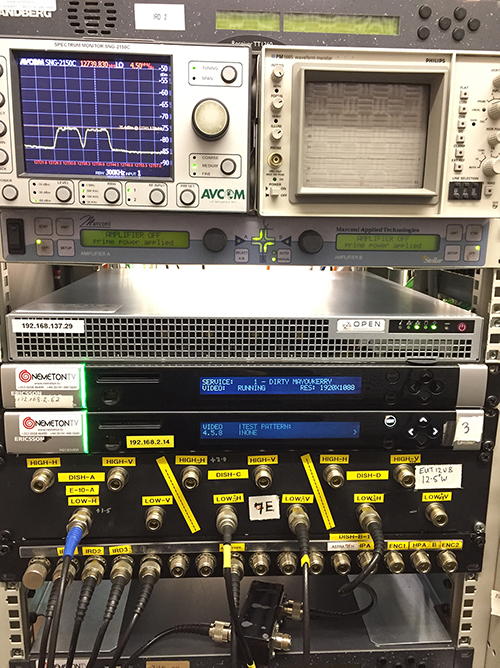 The feeds are received via satellite, decrypted and decoded, then converted for IP delivery to the GAA's website and social channels, as well as being delivered for a Monday evening highlights programme on TG4, the Irish language Television channel.
Fiachna Mac Murchú, Technical Systems Manager, Nemeton TV, commented: "Adding in four extra channels would normally have meant purchasing four separate boxes for each one. This solution, whilst being extremely reliable, is much more cost efficient, as well as taking up much less of the valuable space in our production studio."
Open Broadcast Systems also added DVB-S2 demodulation and Basic Interoperable Scrambling System (BISS) Descrambling to the C200 decoder for this implementation, making the process of receiving and decrypting satellite feeds and transmitting IP feeds all the more efficient.
Kieran Kunhya, Managing Director, Open Broadcast Systems, added: "Satellite technology remains a key way for production companies and broadcasters to gather feeds from the field. However, it can be challenging to convert these quickly and easily for delivering via IP. Putting all of those processes together in one piece of equipment has really streamlined the workflow for Nemeton TV, enabling it to easily extend its coverage to simultaneous matches."
Nemeton's coverage of these games includes the GAA Allianz National Hurling and Football Leagues, the GAA AIB National Hurling and Football Club Championships, and the GAA All-Ireland Hurling and Football Championships.
About Open Broadcast Systems
Open Broadcast Systems is revolutionising the provision of advanced broadcast technology, moving the industry towards a flexible, cost efficient, software-driven future. Its cutting-edge and end-to-end encoding and decoding software is accelerating the delivery of premium content over IP, improving quality at the same time as reducing costs. High quality solutions developed by Open Broadcast Systems deliver services to millions of people every day, including many major sporting and breaking news events.
Its products adapt to the pressures and challenges of the modern broadcast environment, agile solutions can be developed and installed in extremely short timeframes, without compromising on quality.
For more information, please visit http://www.obe.tv
Media Contact:
Helen Weedon
Radical Moves PR
Tel: +44 1570 434632
Mob: +44 7733 231922
[email protected]