London, 21st February 2019 – Encoders and decoders from Open Broadcast Systems are powering Livelink, the IP delivery solution recently launched by Cerberus.
Livelink is an internet-based product designed to move valuable live content from source to destination without the need for expensive traditional infrastructure and services. It operates as a self-service web portal which enables broadcasters and other media distributors to schedule and manage bookings against valuable live content, such as sporting matches, special events, news, or other on-location activity.
Livelink has been developed using OBE C100 and C200 encoders and decoders from Open Broadcast Systems. These enable the delivery of high-quality video with low latency and run as apps which Cerberus has been able to simply embed within its Livelink solution. The C100 model is ideal for entry level news and sports content, whereas the C200 can be used to encode and decode premium broadcast content still at a low price point.
Chris Clarke, CEO, Cerberus, commented: "With Livelink we are providing an efficient yet cost effective way to get live video from source to destination quickly. At the same time, it is important to have the right, good quality solutions in place so that our customers can be confident in the quality of the video. Open Broadcast Systems encoders enable excellent quality while keeping our solution at the right price point."
Open Broadcast System's encoders are generally used for contribution over IP. This integration with Livelink sees them being used to good effect at delivery.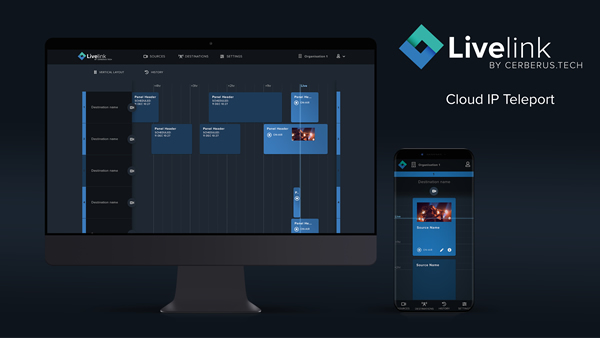 Kieran Kunhya, Managing Director, Open Broadcast Systems, added: "Cerberus has a really innovative approach with this self-service platform for live delivery over IP. The benefits to customers are huge, giving them the efficiencies of IP delivery and full flexibility to schedule and pay only for the content they need. Our solutions fit well in this model."
Open Broadcast Systems will be co-exhibiting with Cerberus on Stand F46
at BVE from 26th – 28th February. Kieran Kunhya will also be joining a panel to discuss early adopters in the IP domain on Wednesday 27th February from 12:15pm.
About Open Broadcast Systems
Open Broadcast Systems is revolutionising the provision of advanced broadcast technology, moving the industry towards a flexible, cost efficient, software-driven future. Its cutting-edge and end-to-end encoding and decoding software is accelerating the delivery of premium content over IP, improving quality at the same time as reducing costs. High quality solutions developed by Open Broadcast Systems deliver services to millions of people every day, including many major sporting and breaking news events.
Its products adapt to the pressures and challenges of the modern broadcast environment, agile solutions can be developed and installed in extremely short timeframes, without compromising on quality.
For more information, please visit http://www.obe.tv.
Media Contact:
Helen Weedon
Radical Moves PR
Tel: +44 1570 434632
Mob: +44 7733 231922
[email protected]